Inherited Religion shows the concerns on the practice of parent inheriting one's religion to the child. The work voices out the right of the child to choose their own beliefs.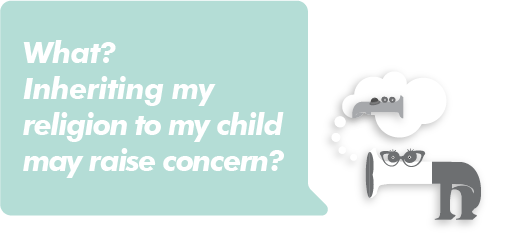 CATEGORY
Installation
Storytelling

PROJECT Role
Concept Design
Software Programming (Arduino, C++)

Collaborated with
Suhyun Kim, Yongfei Liu: Concept Design

Thanks To
Katriina Haikala(Nutty Tarts)
Vilma Metter(Nutty Tarts)

---
Parents' religion is often unquestioningly inherited to the child. Parent's decision of passing on the religious faith may harm the child, who yet can think and question one's religion. This may shorten the sight of the child. Moreover the practice can hinder the child's exploration of religious decisions, often blinds the child's choice of religious freedom.
Design Concept and Mechanism
The work tries to convey the concern of inherited religion through an interactive installation. It indirectly shows the experience the child undergoes due to the inherited religion.
The interactive film stars three people with three different religious beliefs, Christian, Muslim, and Hindi, representative of diverse religions humankind believe in. Each character reads out a part of the Bible, Quran, and Vedas respectively at the same time. As an audience approaches by to take a closer look at the detail of the film, only one religion is shown and delivered cleary, while the rest of the religions are faded beyond the static screen.