Interactive Public Service Advertisement
Interactive public service advertisement(PSA) aims to increase the impact of PSA by converting it into an embodied experience. It maps the audience's body movement to that of a virtual character in PSA, increasing the effect of empathy toward the public issue and the subject.
The project is a master thesis project at the Korea Advanced Institute of Science and Technology.
PROJECT Timeline
Jan – June 2019
CATEGORY
Research
Social change

Responsibilities
UX research and analysis
Kinect programming
Interaction design
Content design
Tools
Unity Kinect SDK
Adobe Fuse
Blender
Public service advertisement(PSA) today doesn't take into account the people they are targeted to, the public, which means they are not as effective as they could be.
I sought out to involve the public in designing new PSAs to drive empathy and make them feel more actionable.

Designed

three interactive PSAs

where users get mapped to the augmented sufferer character and experience the pain they are going through.
Proved the

affectivedness

 of the embodied PSA on

increasing empathy

towards the social issues and the sufferers.
Suggested

design guidelines

for embodied PSA from user testing analysis.
The project was conducted as my Master's thesis at KAIST, where I worked as the main contributor wearing different hats as UX researcher and Kinect experience designer and programmer.
I started with the field research, looking into the principles of PSA and how they approach to enhance the compassion on the issues. From the field research, I found the advent of interactive PSAs where they used new forms of digital media to deliver the issues.
To prove the effectiveness of their approaches and to find the design gap, I conducted a competitive analysis. Multiple PSAs used Kinect to engage passersby, where they interacted with the subjects.
However, the current practices left the audience as the third person. This way, it's insufficient to communicate the seriousness of the issue, compared to the first-person point of view method that most venues are taking, such as a serious game.

From the insights derived from the research, I found the research opportunity of putting the audience in others' shoes that considers the following points.
I designed three PSAs addressing issues of 'domestic child abuse', 'passive smoking', and 'animal cosmetic testing'.
They are created referring to the following research and was iterated based on findings from pilot tests 1 and 2.

Strong embodiment synchronously maps participant's movement to that of the character
Medium embodiments limits the character's movement
Subtle movement strongly constrains the movement of the character
Overview of controlled, non-interactive, PSA shown to participants
Strong embodiment synchronously maps participant's movement to that of the character
Medium embodiments limits the character's movement
Subtle movement strongly constrains the movement of the character

A participant going through user testing
The survey and interview sought out to answer the following:
Impact on participant's cognition, empathy, sympathy, and perceived seriousness, and behavior change

Impact of manipulating embodiment levels on participant's cognition and behavior

Significance of different virtual character's features influencing participant's experience

Design considerations on creating an embodied interactive PSA
PSA experience 1 with followed up survey

PSA experience 2 with followed up survey

PSA experience 3 with followed up survey
* Warnings on the sensitive and pungent contents were notified in the process of user testing recruitment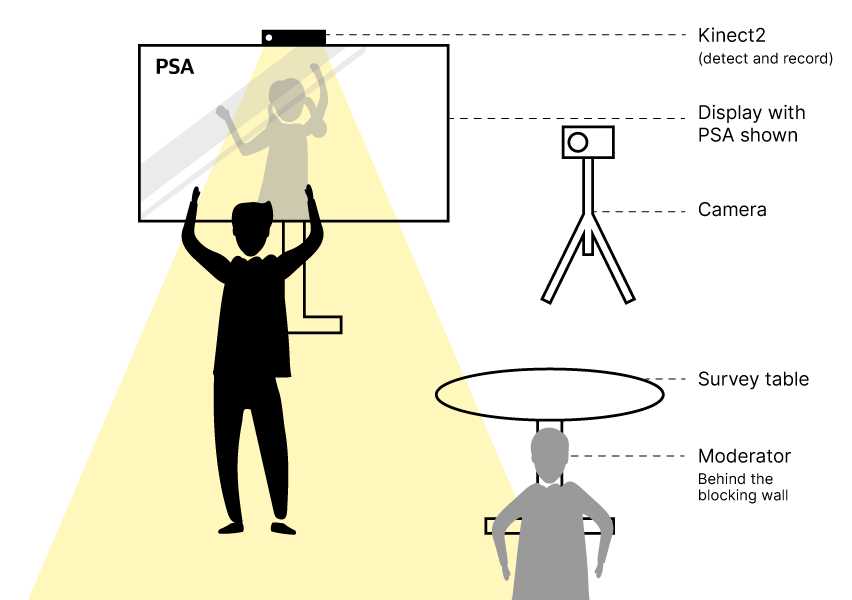 Overview of the test setting