Interactive Public Service Advertisement
Interactive public service advertisement (PSA) aims to increase the impact of PSA by converting it into an embodied experience. It maps the audience's body movement to that of a virtual character in PSA, increasing the effect of empathy toward the public issue and the subject.
The project is a master thesis project at the Korea Advanced Institute of Science and Technology.
PROJECT Timeline
Jan – June 2019
CATEGORY
Research
Social Change
Media Art
Responsibilities
Qualitative Research · Analysis
Programming
PSA Scenario Design

Tools
Unity Kinect SDK
Adobe Fuse
Blender
"Current PSAs leaves audience as a third party – never enough for people to empathize on certain issues." 

"Put Oneself In Someone's Shoes"
Q1
Will mapping the body movement of the participant on the character of the PSA show the impact on cognition, empathy, sympathy, and perceived seriousness, and behavior of the participant?
Q2
Will the different embodiment levels from subtle, medium to strong, bring change in cognition and behavior?
Q3
Will characteristics of certain PSA topics or characters appearing in PSA influence the participant's experience?
Q4
What will be the design considerations for designing an embodied interactive PSA?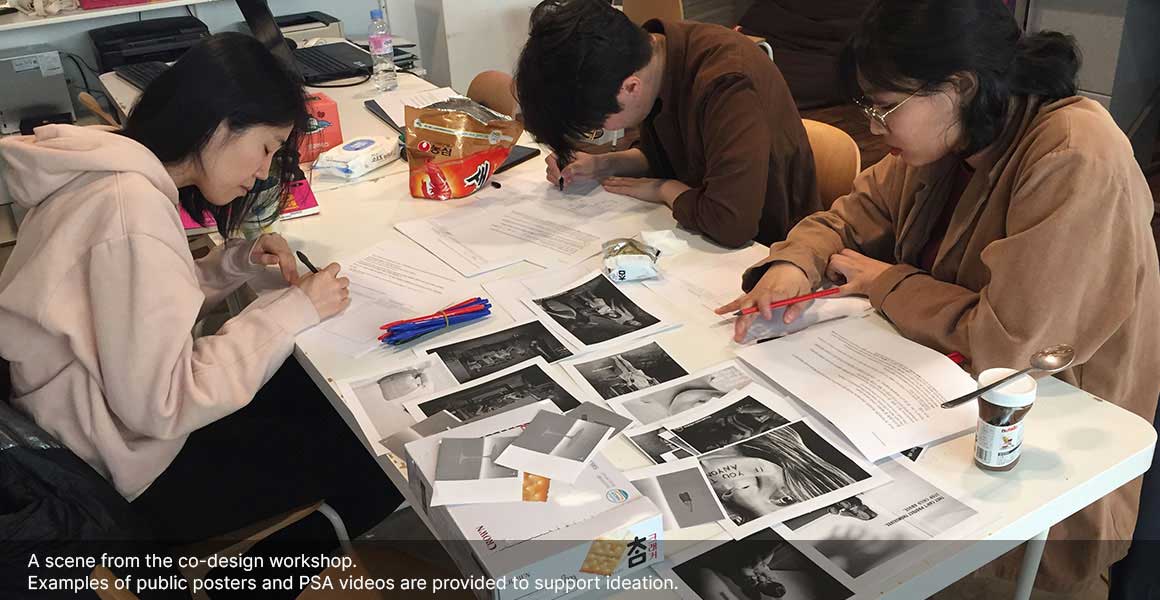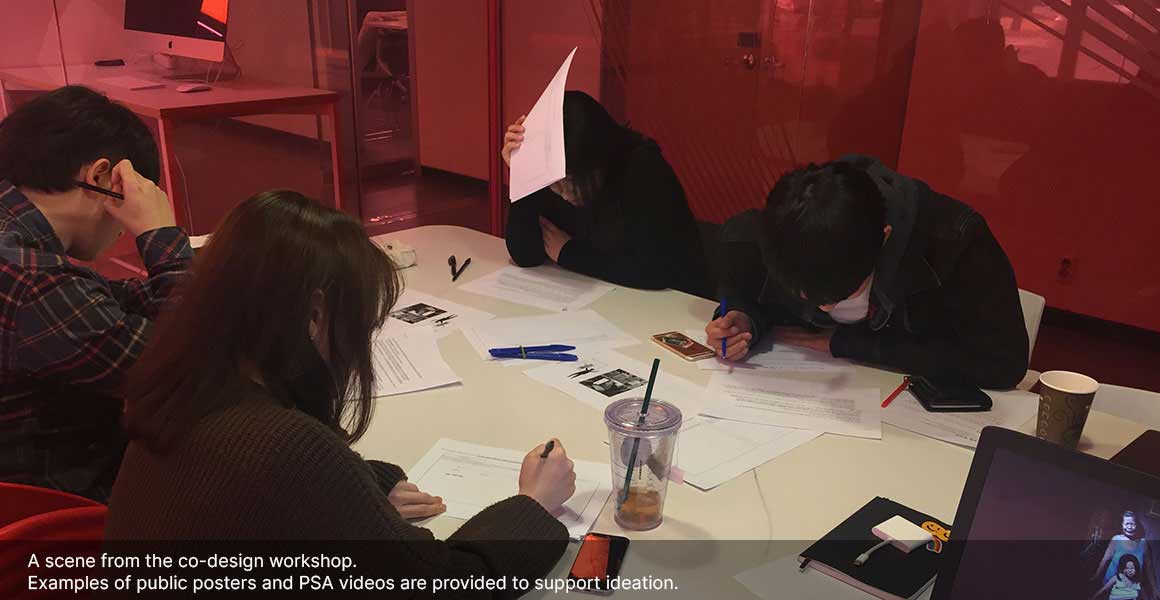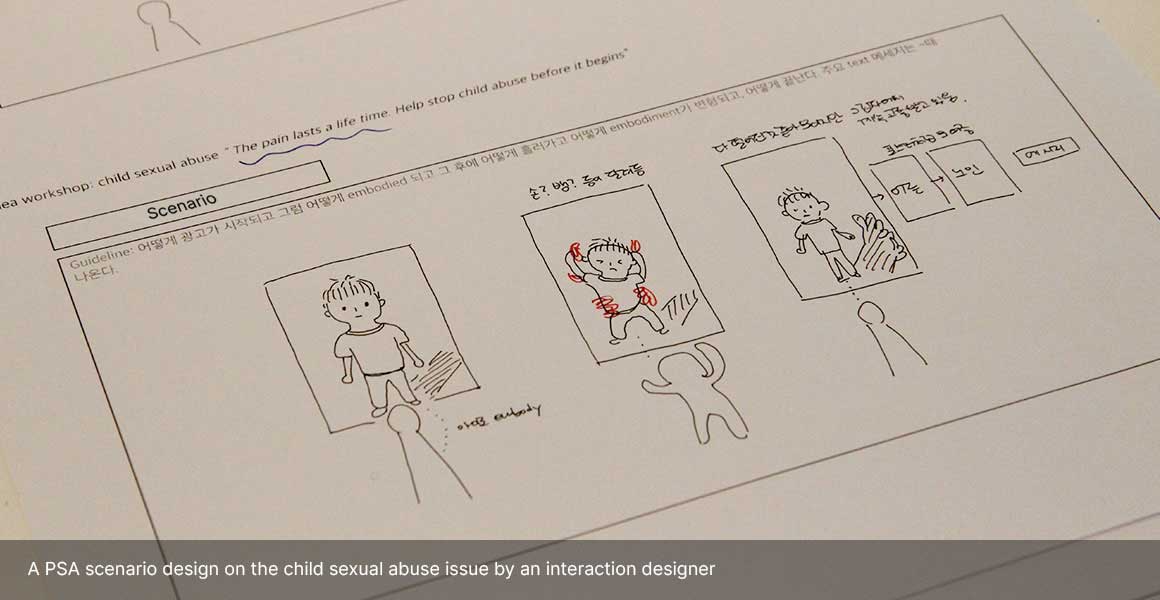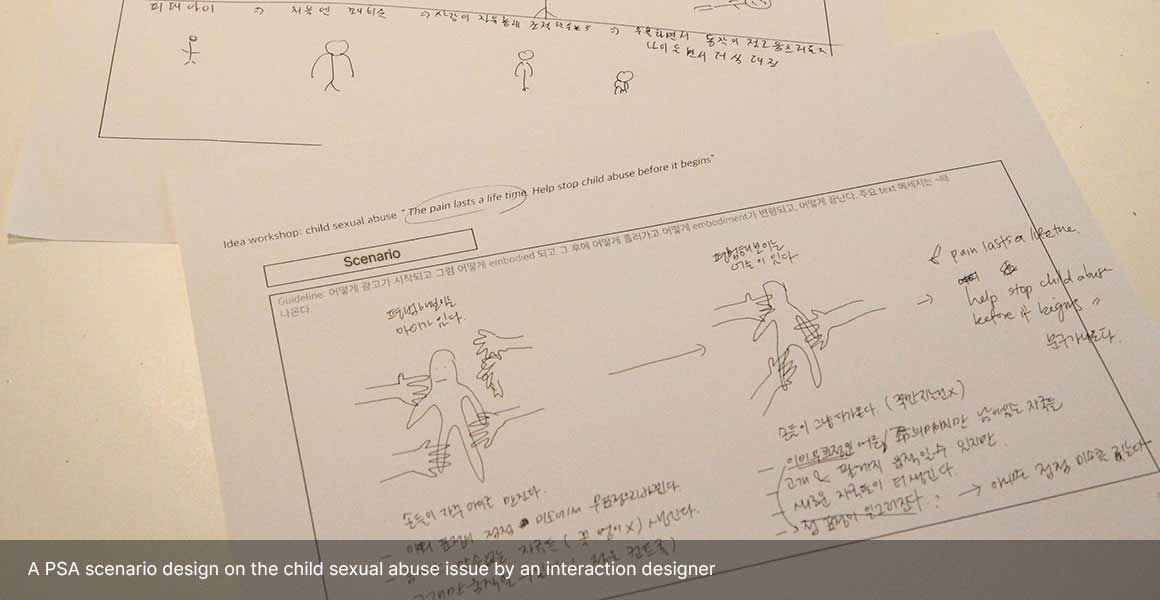 Three PSAs are designed each addressing issues of child domestic abuse, passive smoking, and animal cosmetic testing.
It is created referring to the following research – 1) the guideline addressed in PSA theory 2) analyzed result of the co-design workshop, (3) flow patterns, appearing elements, and stimulus of the previous PSA films. The initial PSAs design was iterated based on findings from the pilot test 1 and 2.
"The pain lasts a lifetime.
Help stop domestic child abuse"
"You smoke, they also smoke. Secondhand smokers are on the worst side of the cigarette"
"All life matters. Fight against cosmetic testing"
Embodiment Level Manipulation
"Different levels of embodiment, from subtle to strong mirroring, may induce distinctive effects" 
Embodiment level is manipulated to investigate the hypothesis above, which is derived from the co-design workshop. For instance, the limited movement of the character may give an oppressive feeling to the participant.
The three different levels of embodiment – 10, 60, and, 100 percent – were applied by altering the interpolation value in the script of Kinect Avatar Detection.
The code Quaternion. Lerp() calculates spherical interpolation value between the start and target rotation.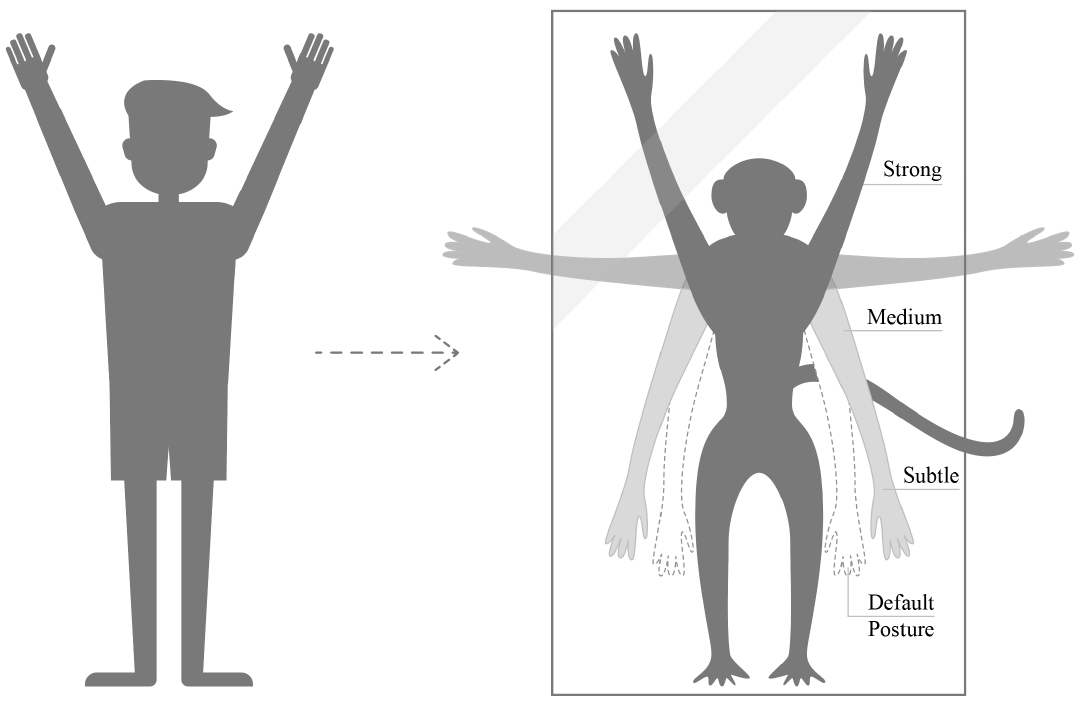 Overview of controlled, non-interactive, PSA shown to participants
Strong embodiment synchronously maps participant's movement to that of the character
Medium embodiments limits the character's movement
Subtle movement strongly constrains the movement of the character
To answer research questions and observe how experience affects audiences, a usability test with 36 participants was conducted.
The test setup was controlled to give participants a feeling of being in a public space and the moderator stood behind the blocking wall to observe both qualitative and quantitative data.
* Warnings on the sensitive and pungent contents were notified in the process of recruitment.
PSA experience 1 with followed up survey

PSA experience 2 with followed up survey

PSA experience 3 with followed up survey

One to one interview (10 minutues)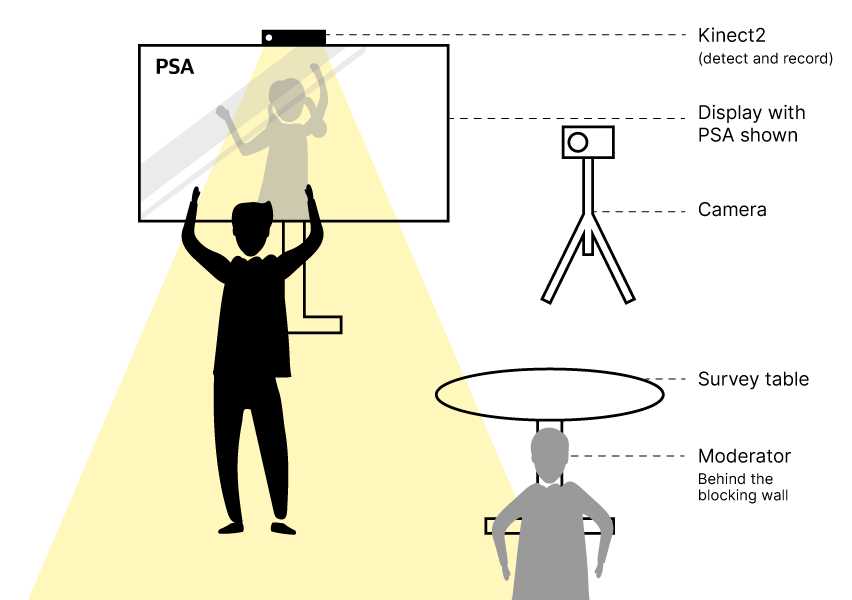 Overview of the test setting